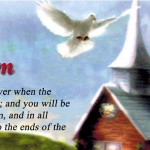 My name is Robert Myers and this is my very first Christian blog.  I am a servant leader of an outreach ministry called the Master's Touch Outreach Ministry, which serves approximately 4,000 meals per year to the homeless and disenfranchised in Washington DC and surrounding areas.  It is my heart's desire to be a catalyst, under the direction of the Holy Spirit, for expanded evangelism in the body of Christ.  To this end, I have authored a book entitled Spirit Driven Evangelism, which is a composite of teachings I provided to members over a twelve year span as we prepared to go into the streets to witness to the lost.  In addition to authoring my book, I plan to play a part in stoking the burning fire of evangelism that resides in the members of the body of Christ by submitting weekly blogs on evangelism with the hope that you will join me in these discussions and on promoting evangelism in the church.  A crowd of folk interested in evangelism will create a bigger crowd of folk interested in evangelism.   A bigger crowd of folk interested in evangelism will bring in more lost souls to the Kingdom of God.
One of the techniques I use to inspire members to stay committed to evangelism is to prepare an annual report highlighting the move of God in response to our witnessing throughout the year.  Throughout the year, I take notes of the move of God and incorporate them in a report that is written with an imagination of God revealing to us these events before they happened.  The point of writing it this way is to let the members know that  just as God as moved in the past year, he is waiting for us to witness to that lost man or woman in the upcoming year so he can move in their lives as well.   The following is a shortened excerpt of our 2013 yearend report (for the full version, go to …..)
Master's Touch Outreach Ministry 2013 Yearend Report
GOD continually calls on his people to remember where he has brought them so they will have confidence in where he is taking them.  The following is a look back at the accomplishments of 2013 with an imagination of what GOD may have said to the Master's Touch Outreach Ministry had he told us these things before they happened.
"Continue to go as I have commanded you and I will take you in the wilderness where the people live and you will show them the way out.  Those who choose me, shall choose life.  Participate in my work and    one who you ministered to long ago, will return to testify that you led him to choose me and now he is seven years drug free.  Share the gospel and one who you minister to at the men's shelter shall visit your church so he could be fed the bread of life –that is my word.  Another shall testify how your ministry has blessed him by ministering to him when he was hanging out on the streets.  He will tell you that he is now on the right track, and is now married.  Another shall say that his mother has mentioned how he has changed since you have been ministering to him.  He will tell you that he used to use drugs when you began coming to New York avenue to minister to the people and now, he has been drug free for twenty two months.  I tell you if they choose me, they will be choosing life.
Do not be afraid to go to the places I send you, for I have placed a hedge of protection around you so that you may move freely inside and outside the area where darkness resides.  Don't be afraid even after hearing news reports of thirteen people being shot in the neighborhood days before I send you there.  Your presence in that neighborhood will be a reminder that I have not left them nor forsaken them.
Stay in the spirit when you face challenges on the streets and your efforts will not be in vain. Stay in the spirit when your plans for ministering at your normal witnessing location do not go according to your plan.  Stay in the Spirit all at once, and I will show you how I will bless your efforts all at once.  You see, what you see as a setback is really a setup to get the 16 youths who accompanied you to do more than they had originally planned.  Out of the mouths of these babes in Christ, your praise shall be perfected.    Overcome the challenges on that day and the hungry shall still be fed.  The poor shall still have the gospel preached to them and souls shall enter into my Kingdom on that very same day.
Go to the places I send you and I will bless your eyes to see marvelous things.  You shall see the poor helping the poor.  You shall see complete strangers stopping to help you in praising my name.  You will see one who used to come to you in a wheel chair come to you with the aid of a walker.  Another who uses a walker shall put aside that walker and praise me as he is walks under the power of his own legs.  Your praises shall lift up another who uses a wheel chair.  He shall get out of that wheel chair and walk on his prosthetic leg while giving me the glory.  Your eyes shall see one who started to leave when you began to preach my word.  After hearing my word and seeing your love, his eyes shall be opened and he will tell you that he believes that you are from me.
Teach the people that I am the GOD that provides and they will seek after me and I will answer their prayers.  One at Franklyn Square will tell you he got the job you prayed he would get.  Pray for another and he shall get the CDL license needed for the job he seeks.  Pray the prayer of faith with another at Carroll House and the prayer of faith shall bring forth a job for the one whose heart sought my face.  Another shall ask you to pray that he receives approval for social security benefits.  Your prayer shall reach my ears and he shall be quickly approved and his remaining days at the shelter shall be numbered.
Go out my fellow workers and do these things for me and the year ahead shall be exceedingly fruitful.  Four new members shall join this ministry.  Over 4,000 meals shall be served by your hands, over 1300  prayers shall be rendered by your lips; and over 100 souls shall be led to salvation by your obedient heart.
I tell you these things before it happens so that when it happens you will know that I am working with you.  Now it is up to you my fellow co-laborers.  Go to the places I send you.  Minister to the ones I tell you.  Participate in my work and I will be with you, demonstrating my presence with signs and wonders."
I share this report with you with the hope that this time next year, you and I can rejoice over the move of God that shall surely respond to our efforts to generate expanded interest in evangelism  in the upcoming year.
Brother Robert Myers
"Be a witness and witness God move"