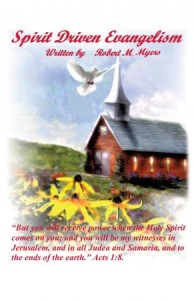 In addition to Amazon.com, the book can be purchased at:
Christian Book: http://www.christianbook.com/Christian/Books/product?item_no=390469&product_redirect=1&Ntt=390469&item_code=&Ntk=keywords&event=ESRCP
Barnes and Noble: http://www.barnesandnoble.com/s/spirit-driven-evangelism?store=book&keyword=spirit+driven+evangelism
Xulon Press:  http://www.xulonpress.com/bookstore/bookdetail.php?PB_ISBN=9781628390469
Book Reviews
Sis. Beverly Johnson: I purchased your book from the bookstore last night.  I started reading it this morning on the train going to work.  I was so engrossed that I almost missed my stop.  I picked it up again on the way home and I did miss my stop because I inadvertently got on the wrong train!
Rev. Hilda L. Hudson: Spirit Driven Evangelism captures the passion of winning souls for Christ, while understanding that the Holy Spirit is the driving force that uses available and called servants to allow the Word to become flesh again through evangelism. Robert M. Myers shares from his personal experience and testimony the importance of "staying in the spirit" and the effectiveness of preparing the ground for the harvest. Well written and practical for all who desire to answer the call to Go Ye!"
CBM Book Review: Spirit Driven Evangelism is truly a fascinating book on the ministry of the Holy Spirit to save the lost. Based on the scripture from Acts 1:8.With uplifting testimonies of the encounters of evangelism that is shared beyond the four walls of the church, the author resonates that ministry is only effective through the leading and guiding of the Holy Spirit.
Rev. Loxley O'Connor: Bro, I just finished your book and my heart is burning within me. Oh bless His name. This is a wonderful testament to how Holy Spirit uses ordinary people to do extraordinary things. May the grace of our Lord and Savior Jesus Christ continue to do a good work through you. Bless you my brother.